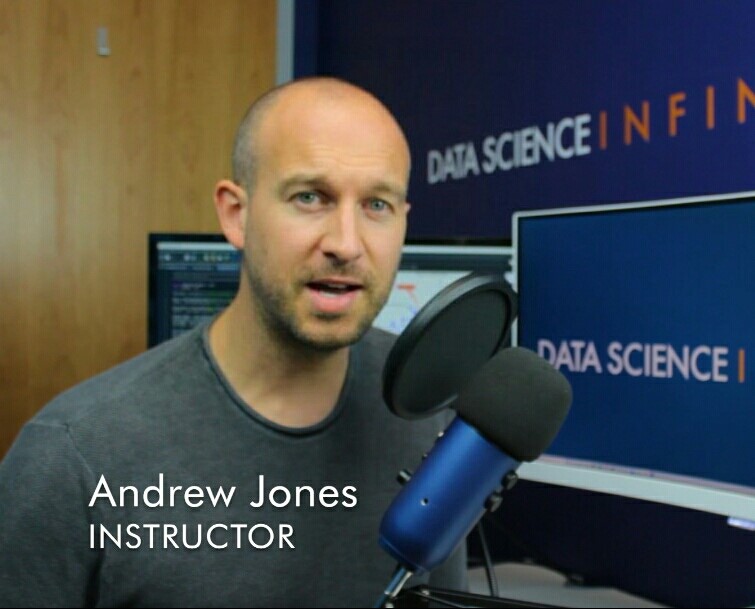 Let's do this!


I can't wait to get to know you, help you become a great Data Scientist, and to guide you into an amazing role in this exciting field!
If you want to accelerate your Data Science learning journey, get ahead of the competition, and land an amazing role in this exciting field - then enroll now. I can't wait to work with you!


There are two plans available, depending on whether you want to be part of the private members group for the
unlimited
and dedicated support and guidance on your Data Science learning journey.


Please see below for more information, pricing, and payment plans.
Take another look through the full DSI Curriculum
Note: You may need to click the expand button to see all tutorials
Frequently Asked Questions...


How long do I have access to the programme?
>> Access is unlimited. Learning Data Science is a journey not a destination!
Is the learning self-paced?
>> Yes, content is pre-recorded - meaning that you can move at your own pace and revisit concepts again if you need!
​
How long does the certification take to complete?
>> It's a great question - although a tricky one to answer, as it depends on how much time you have to commit to it. The great thing about DATA SCIENCE INFINITY is that you have unlimited access to the content meaning you can earn your certification in a time frame that suits you. The average completion time is 12 weeks - but remember, more incredible content is, and will continue to be added over time so you can continue to grow and evolve as a Data Scientist!
Do I get access to any new content that is added?
>> Yes! Signing up means getting access to the currently available content and all content that is added in the future! You will evolve & grow with the programme - another aspect of DATA SCIENCE INFINITY that sets it apart from the competition!
​
How do I get the certificate?
>> At the end of the content, you will be prompted to contact me regarding your certification. We will discuss your progress and your results on the tests & quizzes. After this, you will be awarded the DATA SCIENCE INFINITY Data Science Professional Certification - and I will provide you with your certificate!
​
Are there any pre-requisite skills I need?
>> DATA SCIENCE INFINITY has been created in a way that is accessible to anyone. We always start right from the beginning and then move onwards towards the more complex concepts. Everything is taught with a focus on intuition and understanding - and with the Premium Plan you will also have my dedicated support if you ever want to discuss concepts in more detail!​ I have students who had zero technical experience prior to joining, and I have students who have a lot of experience in the field already. Both groups have found great value in this programme.
​
Is there a job guarantee from this programme?
>> No matter what they say, no programme can guarantee you land a job after completion. It takes dedication, commitment and persistance from you as well. In saying this, DATA SCIENCE INFINITY will put you in the best possible position to land a great role so as you are learning the skills & tools that hiring managers have told me they need & want - and you are learning how to navigate the hiring process and get ahead of the competition based upon my experience interviewing and screening hundreds of candidates at top tech companies. I have seen what differentiates those who land the role from those you miss out time and time again, and this programme is all about getting on the right side of that hiring decision! Take a look at some of the feedback on the site, and you'll see that it really does work!
​
What if I'm unhappy with the programme?
>> I want you to be happy! If you are not satisfied within 30 days, you can request a full refund
Why learn like everyone else?


There is a
disconnect
between what is being taught for Data Science - and the demands and requirements in the real world.
The content for
DATA SCIENCE INFINITY
is based on input from leaders, hiring managers, and recruiters within the field.  


Focus your time learning
and
understanding
the skills & concepts that hiring managers need & want.
Why struggle through interviews, and miss out on the roles you really want?


Learn what interviewers really want to see - based on experience interviewing & screening
hundreds
of candidates at companies including Amazon, and Sony PlayStation.
Why learn in isolation?


Get unlimited access to dedicated support & guidance on any part of your Data Science journey
(Premium Plan only)
Why Data Science?


With ever-increasing volumes of data being generated and collected, companies from all industries are looking to hire Data Scientists to help them stay ahead of the competition.


It is widely known that Data Science was labelled "The Sexiest Job of the 21st Century" and that the salaries in the field are among some of the highest.


Salary insights company Payscale
calculated
that the
median
salary for a Data Scientist in the US is $96k.


As a result, the market has been flooded with aspiring Data Scientists - but due to the increased competition, many are struggling to land any role, let alone their dream role.


I've interviewed
hundreds
of Data Scientists at companies including Amazon & Sony PlayStation and I've seen countless candidates come up short. I want to show you what you need to know to move ahead of the competition and get the role you want.




"Whether you're at the very beginning of your journey, you've already started learning, or you're looking to transition from another field -
DATA SCIENCE I N F I N I T Y
will take you ahead of the pack, ensuring you can land a great role in this exciting field and make a tangible impact when you do!"


DATA SCIENCE I N F I N I T Y
 will provide you
unlimited access
to everything you need to get ahead of the competition, and land a great role in this exciting industry.


The foundational content is based on expert experience within leading Data Science organisations, as well as input from 
hundreds
of Data Science leaders and recruiters within the field.
The programme ensures you grasp the core, foundational skills first, paving the way for infinite future development.
No hiring manager is going to pay you
just
to be good at coding, or just to be good at maths, or just to know a lot of machine learning algorithms....but they will pay you, and they'll pay you well, to add tangible value to their business. Because of this, not only does the programme cover the technical skills required for success, there is also a heavy focus on the softer skill-set that will set you apart from the other candidates.


From experience interviewing
hundreds
of Data Scientists at companies including Amazon, and Sony - we will cover techniques and inside knowledge around how to approach and succeed in Data Science interviews.
Evolve with the programme
The course content will continue to grow and evolve based on what the student community
want
to learn.


Once you have the fundamentals in place, let's look to broaden out your skill-set!


There is no certificate for this programme, the learning never ends!
Get dedicated support & guidance
Learning in isolation can be hard... 
Trying to find the answer to an issue you're facing or get guidance on a concept you don't quite understand can be frustrating & de-motivating. 


Signing up to the
Premium Plan
for DATA SCIENCE INFINITY means being part of a private community of equally invested peers,
and
direct access to
dedicated
guidance, support, and direction - not only regarding the programme, but to any part of your Data Science journey.


If you don't understand a concept - the support is there.


If you don't know how to approach a problem or task - the support is there.


If you want help preparing for an upcoming interview - the support is there.


If you want guidance with a Data Science task in your role - the support is there.


I am
dedicated
to helping you succeed!
I'd love to discuss
any
questions you have around the programme. Please do send me an email at:
[email protected]
or send me a message on
LinkedIn
!